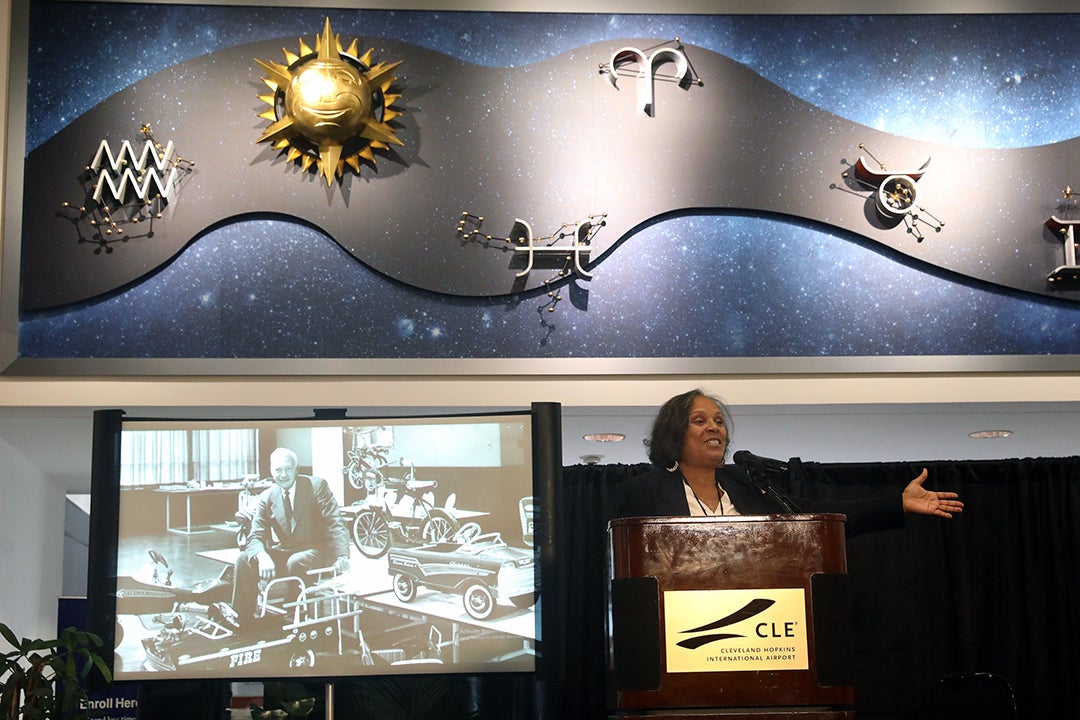 Historic Permanent Art Exhibit Unveiled at CLE
November 17, 2023
Arts & Culture
 A historic art exhibit has returned to Cleveland Hopkins International Airport (CLE) as the masterfully restored Time and Space celestial sculpture by famed industrial designer Viktor Schreckengost was unveiled today. 
"Nearing 100-years of existence, Cleveland Hopkins is rich with history," said Bryant L. Francis, C.M., Director of Port Control. "We are proud to have served as the original home of this fantastic, one-of-a-kind sculpture and are equally proud to return it to a prominent in-terminal location, following extensive restoration, for our guests to experience as they visit CLE." 
Schreckengost was born in Sebring, OH and attended the Cleveland School of the Arts, now known as the Cleveland Institute of Art. He later taught at the Cleveland Institute of Art for 50 years, founded the nation's first industrial design program there, and was a professor emeritus until his death in 2008 at the age of 101. 
During his career, Schreckengost was known as the "American DaVinci" and shaped American culture. In addition to his national notoriety, some of his Cleveland accomplishments includes the Mammoth and Mastodon sculptures that currently adorn the Cleveland Museum of Natural History and the horse head sculpture at Cleveland Mounted Police Stables, the O'Neill memorial. 
In 1955, he was commissioned by the Airport to design a piece that would speak to the traveling public, thus Time and Space was born. The sculpture consists of 15 pieces: twelve signs of the Zodiac and the Sun, Earth and Moon. It is constructed out of stainless steel rods connected to aluminum planets and a heavily coated gold leaf Sun. The theme was derived from how early travelers used the stars to navigate their travels. 
"This project was dear to Vik's heart, and he enjoyed doing the design," said Gene Schreckengost, widow of Viktor. "I remember seeing the pieces when they were located in their initial position on the front of the airport. Now they will once again greet travelers as they come in the main entrance." 
In 2012, plans to restore the piece by the Airport's art department and the City's Art Preservation Committee with the intent to reinstall at the Central Checkpoint of the Airport was put into motion. Understanding the cultural, historical significance and value, legislation was sought and Airport funds were identified to restore the piece to its original condition with the help of the Intermuseum Conservation Association (ICA). 
"Time and Space was originally created as a collaborative effort between Vik Schreckengost, Melvin Rose and the craftsmen at Rose Iron Works' studio," said Robert B. Rose, President of Rose Iron Works. "We are proud of it and delighted that it will again be within public view." 
Photo Credit: City of Cleveland Photographic Bureau
The CLE Art Program: Over ten million travelers and guests are projected to visit CLE in 2024 and to improve their overall airport experience. The CLE Art Program was created in 2008 to tell a unique story about Cleveland and the Northeast Ohio region. Art exhibits in the airport, managed by Shari Cloud, showcase high-quality, regionally produced artwork to assist in meeting the airport's overall satisfaction and customer service objectives. 
Cleveland Hopkins International Airport (CLE) is Northeast Ohio's Gateway to the World. Serving 10,000,000 passengers annually with over 135 daily departures to 38 nonstop destinations, CLE is Northeast Ohio's premier commercial airport. With nonstop service operating on 34 domestic and 4 international routes, it is the busiest airport serving State of Ohio metropolitan areas as ranked by passenger activity. Ten passenger airlines and two all-cargo airlines operate regularly at CLE. The upcoming multi-phase Terminal Modernization Development Program will elevate the travel experience for all through an extensive transformation of terminal and related facilities. It is anticipated to begin in 2025, the Airport's 100th Anniversary, and extend into the next decade.