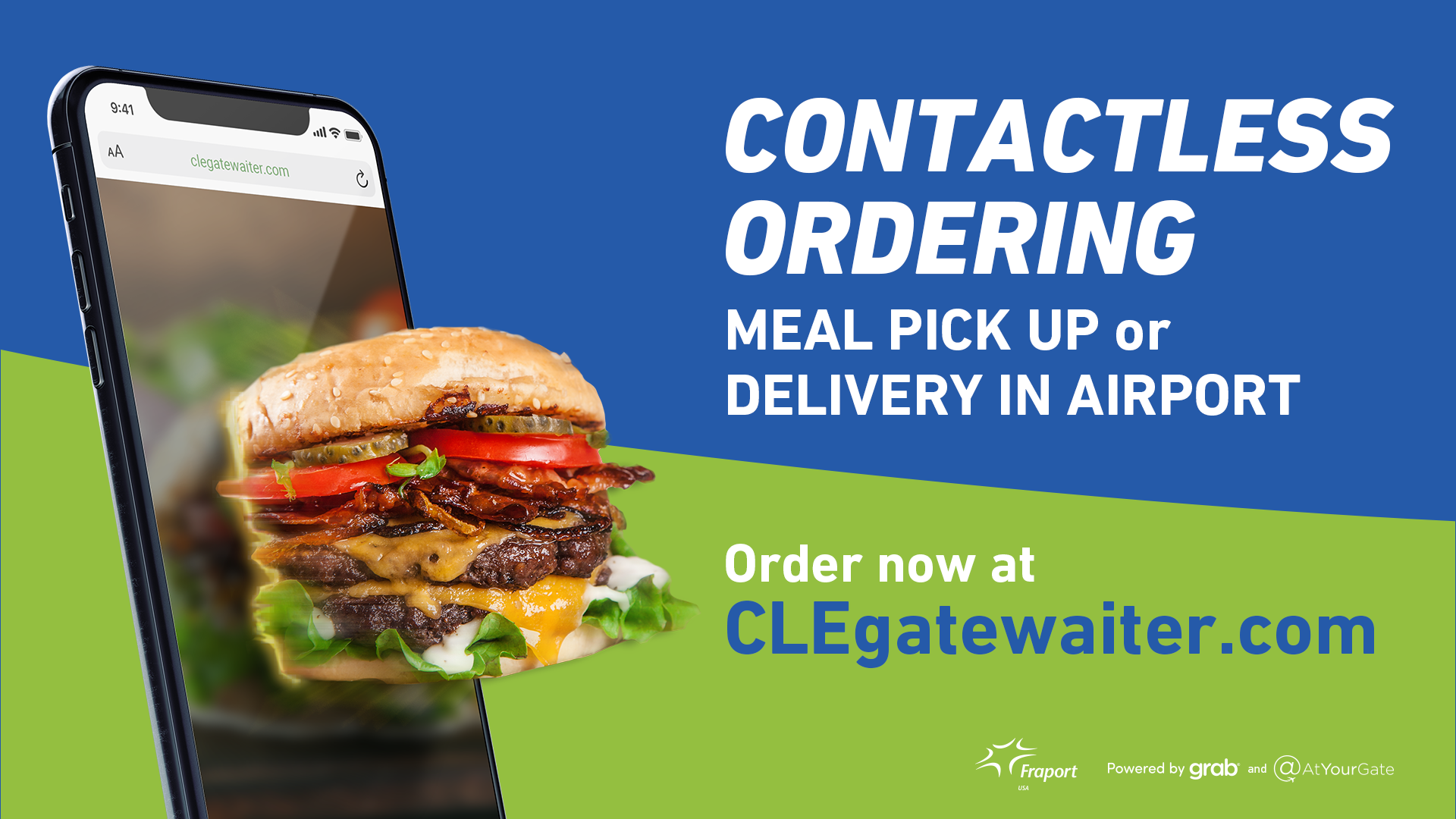 New GateWaiter Mobile Meal Delivery Service takes off at CLE
September 2, 2021
Press Releases
Easily order meals for pickup or delivery to your gate
Hungry fliers, this is for you. Now, Cleveland Hopkins International Airport (CLE) guests can order their favorite food for pickup or delivery inside the airport on their smartphones or digital devices. Fraport USA's new GateWaiter™ Mobile Meal Delivery Service rolled out last  month at CLE. A variety of the airport's eateries, including hometown greats Bar Symon, Inca Tea Café and Great Lakes Brewing Company, are participating with more added to the CLEGateWaiter.com platform each day.
"Our fully integrated mobile platform offers travelers an easy way to satisfy their cravings before they take off and during their visit at the airport," says Tina LaForte, vice president of Fraport Cleveland. "GateWaiter not only saves time and effort, with this self-service option, we're delivering for customers who want a convenient solution for mealtime and excellent food options when they travel."
Powered by Servy's Grab Airport Marketplace technology with delivery by AtYourGate, airport guests can place food and drink pickup or delivery orders using their smartphones and digital devices, by scanning a QR Code or visiting CLEGateWaiter.com. Restaurant options are searchable by location and cuisine and estimated order and delivery times are provided. Guests can pick up their order at the restaurant, or have it delivered to their chosen location at the airport for a nominal fee. They can also can opt-in for status alerts. The Grab go-to app and companion to CLEGateWaiter.com can also be downloaded at getgrab.com.
"Having the opportunity to offer such a unique and innovative service to Cleveland Hopkins International Airport (CLE) guests is very exciting," said Robert Kennedy, Director of Airports. "Offering this service provides added convenience for all of our guests who visit our airport, whether waiting to pick up a passenger, departing, arriving or working in the terminal, this is another example of how we continue to look for ways to enhance our customer service efforts to ensure all our guests' experiences are both enjoyable and memorable."  
Fraport USA's GateWaiter™ Mobile Meal Delivery Service is being rolled out in U.S. airports, including Baltimore/Washington International Thurgood Marshall Airport (BWI). It is powered by the largest e-commerce platform in airports worldwide.
Jeff Livney, Servy's Chief Experience Officer, added: "It's great to be announcing our new partnership with Fraport USA also launching at Cleveland Hopkins, which is further proof of their commitment to improving the guest experience for travelers. This new service will offer a convenient, contactless self-service option, reducing touchpoints for passengers and enabling them to easily order and purchase meals while maintaining social distancing."
"We're thrilled to be partnering with Servy and Fraport USA to provide the delivery experience for these exciting new programs at CLE and BWI," said Chris Hartman, Chief Experience Officer at AtYourGate. "These programs will provide guests greater access to dining options while traveling, including the option for safe and convenient delivery right to their gate."
About Fraport USA®
Fraport USA is the developer and manager of the retail, food and beverage programs at Baltimore/Washington International Thurgood Marshall Airport (BWI), Cleveland Hopkins International Airport (CLE), Pittsburgh International Airport (PIT), JetBlue's Terminal 5 at New York's John F. Kennedy International Airport (JFK), Nashville International Airport (BNA) and Newark Liberty International Airport's (EWR) Terminal B. A leading airport concessions model in North America, Fraport USA's projects rank among the highest for passenger spending and consistently receive accolades for innovation and customer service. For more information, visit fraport-usa.com. Fraport USA is a wholly-owned subsidiary of Fraport AG Frankfurt Airport Services Worldwide. Based in Frankfurt, Germany, Fraport AG is active at some 30 airports on four continents around the globe. Visit Fraport AG at fraport.com.