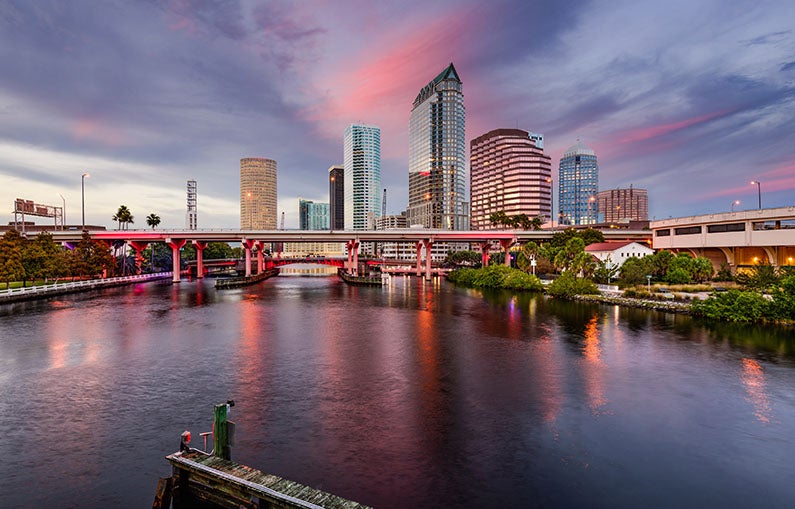 Tampa
Located along Florida's Gulf Coast, Tampa hosts great year-round weather, a cultural combination of cuisines, and a trio of professional sports teams. Step through Tampa's history with a trip to one of its many museums, its stunning nature parks, or its historic Ybor City neighborhood. 
Sunshine Skyway Bridge
Situated along Tampa Bay, the Sunshine Skyway Bridge is a 1.1 mile-long feat of modern architecture. Travel along the bridge (preferably with windows down) and be introduced the beauty of Florida: turquoise-green waters and tropical warmth. The bridge evokes an almost glamorous experience—it is often used in filming automobile commercials, the pinnacle of luxury.  
Lettuce Lake Regional Park
Lettuce Lake Regional Park is a sprawling tribute to the exquisite environment of Tampa Bay. The 240-acre site is home to a 3,500 ft. boardwalk, an interpretive nature center, and a plethora of outdoor activities for visitors of all ages. If you're in town on a Saturday or Sunday, be sure to take the free guided tour, led by park rangers. As you spend a late weekend morning in Florida's backyard, home amongst its wildlife and oasis of calm, you may never want to leave. 
Tampa Riverwalk
A mecca of open-air shopping, restaurants, and hotels the Tampa Riverwalk is a constantly evolving attraction. The Riverwalk really does have everything: museums, parks, and even a trail of bronze and marble sculptures (a tribute to Tampanian historical figures). Take a stroll and get to know Tampa through its open-concept design, with an endless stream of activities at your feet.   
Salvador Dali Museum
Located in nearby St. Petersburg, the Salvador Dali Museum is worth a day trip (or two, or three). The museum is packed to the gills with all things Dali, and visitors are treated to an intimate look into the artist's life. The building itself is a work of art, though the collection housed inside is awe-inspiring: it is the largest compilation of Dali originals in the entire world. The collection, which was initially compiled by Cleveland natives A. Reynolds and Eleanor R. Morse, is representative of Dali's genius, his madness, and his penchant for transforming wild daydreams into (sometimes unanalyzable) art.
To plan your trip to Tampa or for an extended guide of things to do, visit the official Tampa city guide at http://www.visittampabay.com. 
Tampa International Airport
To learn more about specific flight information, hotels around the airport, ground transportation and more, visit the airport's website.