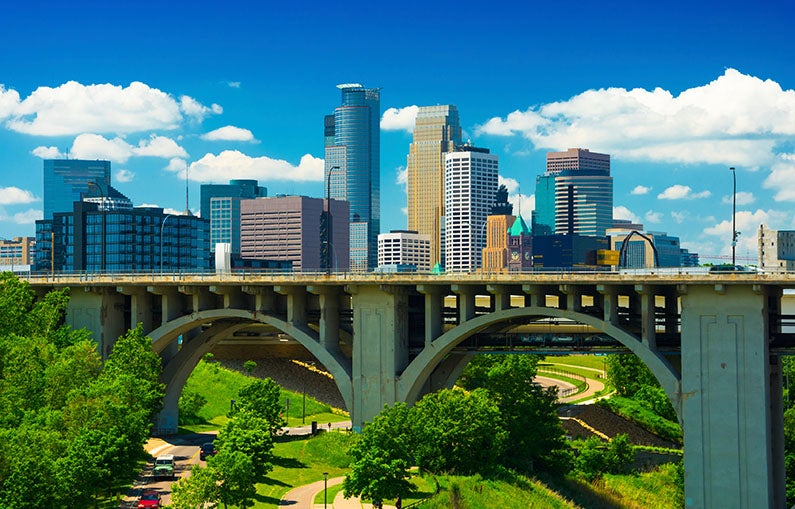 Minneapolis
*FRONTIER SERVICE TO BEGIN ON APRIL 23, 2017
The larger of the Twin Cities, Minneapolis lies on both banks of the Mississippi River, with a chain of glittering lakes within its limits. The Minnesotan metropolis is a home to all seasons, granting visitors with equally picturesque summers and winters. An active city at its core, Minneapolis hosts a bubbling music scene, outdoor activities aplenty, and a crowd of avant-garde art installations. 
Minnehaha Park
Experience the beauty of the Twin Cities at Minnehaha Park, where the New England poet Henry Wordsworth Longfellow once spun a lovely tale of its splendor. The 53-foot falls are the centerpiece of the park, which also contains sprawling hiking trails, plenty of picnic spots, and a replica of the Longfellow house. Escape from the city and write a poem of your own—or at least admire the beautiful sights.
Minneapolis Sculpture Garden
Artfully arranged over 11 acres, the Minneapolis Sculpture Garden is home to a peculiar collection of statues. One of these installations, "Spoonbridge and Cherry," serves as a quirky frame for the Minneapolis skyline. The garden is an integral part of Minneapolis' make-up, and attracts curious travelers from all over. 
American Swedish Institute
Offering a comprehensive glance into Swedish-American culture, the American Swedish Institute is a Minneapolis treasure. The museum, housed in two buildings, follows the historic path of the Swedes to the United States, effectively combining two heritages. FIKA (a Swedish word that describes the event of having something sweet with your coffee) is the museum's restaurant, and was at one time voted the best lunch in Minneapolis, in praise of its Nordic-modern fusion cuisine.  
Alpine Asphalt's Wall of Skies
You might have to work to find the Alpine Asphalt's Wall of Skis, though this eccentric piece of architecture is worth the hunt. The name pretty much says it all—it's a fence made out of skis—though it's also a testament to the active culture of Minneapolis, as well as its Scandinavian roots.
To plan your trip to Minneapolis or for an extended guide of things to do, visit the official Minneapolis city guide at http://www.minneapolis.org.       
Minneapolis-St. Paul International Airport
To learn more about specific flight information, hotels around the airport, ground transportation and more, visit the airport's website.