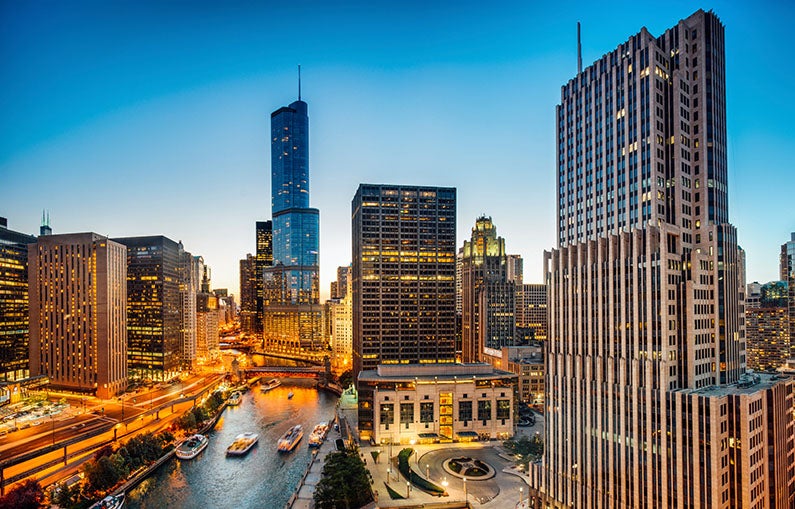 Chicago - ORD
Spend a few days in Chicago and be introduced to its soundtrack: the rumble of the L train, the whistle of its lakefront winds, and the livened cheers from the Cubs' stadium in springtime. Between the bustle of shoppers on Michigan Avenue, the whirring of water taxis crossing the Chicago River, and a thriving live music scene, Chicago is a city full of sound. 
Baby Wants Candy
Baby Wants Candy—which bills itself as a completely improvised musical with a live band—represents the best of Chicago nightlife. Combining off-the-wall show concepts (one example: Spongebob Goes to Lollapalooza) with wacky song lyrics, there are no two shows the same. Hosted in several Chicago locations, these shows are easily accessible and affordable. Go in with an open mind, and come ready to laugh. 
Chicago Field Museum
The famed Chicago Field Museum takes an in-depth look into the sprawling world of natural science. Wander through the dinosaur hall and gawk at mummified mastodons; stop by the DNA Discovery center and become a student for the day. It's no easy feat to see it all (the staff maintains nearly 24 million unique specimens), though one thing's for certain: the massive collection definitely deserves your attention. 
Chicago Architecture Foundation
The Chicago Architecture Foundation hosts fabulous river cruise tours. Unfortunately, the tours are only run through the spring-fall (wise in Chicago's winters), though they a fantastic way to spend a late morning or afternoon. The Foundation's guides are enthusiastic and knowledgeable about Chicago's incredible architecture, and the cruise provides an up-close-and-personal introduction to the skyline and its neighbors. Listen to Chicago grow up from the ground and enjoy a cruise along the River and over to Lake Michigan. 
Robie House
Designed by Frank Lloyd Wright in 1908, the Robie House sits upon the campus of the University of Chicago. Constructed in his trademark Prairie-style architecture, the house still contains all of Wright's original interiors, including furniture and textiles. Take a tour and unravel the impossibly intricate details of Wright's design (the site is closed to the public on Tuesdays). If it's your first Wright house tour, it likely won't be your last.  
To plan your trip to Chicago or for an extended guide of things to do, visit the official Chicago city guide at http://www.cityofchicago.org. 
Chicago O'Hare International Airport
To learn more about specific flight information, hotels around the airport, ground transportation and more, visit the airport's website.