Crooked River Contrasts
Artist Details
Crooked River Contrasts Airport Images
Presented by Xtinguish Celebration, West Creek Conservancy, Cuyahoga Valley National Park and Ohio Humanities
The 1969 Cuyahoga River fire has become a powerful cultural symbol as well as a rallying cry for better water protection. Discover a story of extraordinary resilience and recovery, captured by photographers from Northeast Ohio.
Fifty years ago, the Cuyahoga River was so polluted by industrial waste that it caught fire. The event generated worldwide attention and notoriety that took Cleveland years to live down. That final fire served as a catalyst for the Clean Water Act and the Environmental Protection Agency. Today, the Cuyahoga is a symbol of efforts to clean up America's waterways. Wildlife and people are returning to a much healthier river. Conservation and committed stewardship have enhanced the value of the Cuyahoga as a resource for economic development, recreation and tourism.
The river and its watershed define much of Northeast Ohio. The Mohawk and Seneca people named it after its crooked, jawbone shape. For 100 miles it snakes south from its headwaters in Geauga County, cuts across a corner of Portage County, tumbles across Cuyahoga Falls, and then U-turns in Akron, heading north through Cuyahoga Valley National Park to Cleveland and Lake Erie. It is part of the Great Lakes basin, home to 21% of the planet's surface fresh water.
Crooked River Contrasts brings together historical images leading up to the 1969 fire with contemporary photographs by artists responding to the positive results of the clean-up and conservation strategies which that event inspired. Fish and other wildlife now live in and around industrial waterways. Freighters and leisure boats share the shipping channel. Housing, dining and entertainment come together along the banks. Parks and a network of trails attract people for hiking, bicycling, kayaking, rowing and fishing.
The resilience of the watershed has been extraordinary and the Cuyahoga River continues to spur civic and environmental progress.
Artists:Ian Adams, Jennie Jones, Jim Roetzel, Bill Rieter, Christina Sadowski, Jeffrey Gibson, Rick McMeechan, D.J. Reiser
Ian Adams
Ian Adams is a renowned environmental photographer, writer and educator specializing in Ohio's natural and historical areas, especially the Cuyahoga Valley. He has published 21 books, including Our First Family's Home: The Ohio Governor's Residence & Heritage Garden, Backroads of Ohio, and Stan Hywet Hall & Gardens. His 2017 book, Ohio in Photographs: A Portrait of the Buckeye Statewas requested by Governor John Kasich. Ian has conducted 200+ workshops on storytelling through imagery throughout North America. He is an adjunct professor at The Ohio State University in Wooster and carries out assignments for Country Gardens, Organic Gardening and other magazines, as well as numerous landscape design firms.
Jeffrey Gibson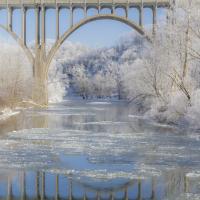 Jeffrey Gibson is a retired biology teacher from Revere High School who uses the Cuyahoga Valley National Park as his main photography focus. He has contributed 30 images to the Park's calendar since 2009. Further abroad, Jeffrey took First Place in the Ansel Adams International Photo Contest. His images have been commissioned by National Geographic, Summa Health: Akron Hospital System, Akron Symphony Orchestra, Cleveland Institute of Music, University Hospitals and more. His work graces some of the CVNP trail heads signage and reaches the public through Boston Mills Art Fest, Ohio Mart, Medina's Art in the Park and many more.
Jennie Jones
Jennie Jones is renowned for her architectural and urban landscape work. She is an author, museum educator and Adjunct Professor at Case Western Reserve University. Jennie moved to Cleveland in 1978, using her photography for educational purposes teaching art history, but in 1983 established her own studio. In 1986 she published Cleveland: A Celebration In Color, which sold out two editions. Her second book, Celebration II: Cleveland In Colorwas published in 1991. Her photography has appeared in World Architecture, Forbes and Fortune Magazine, among others. Preservation Magazine says "Her work is a priceless record of Cleveland's heritage."
William Rieter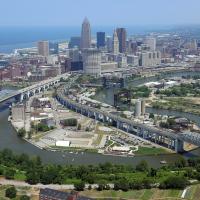 William Rieter is a well-known commercial photographer and Chief Photographer for the City of Cleveland. He was Senior Photographer at Cleveland State University for over 20 years. His vast collection documenting Ohio nature, sporting events, music, celebrity portraits and more form a rich gallery of regional history. Frequently seen at arenas and public events, a partial client list includes Gallagher Sharp law firm, Diocese of Cleveland, Duke University, The McGregor Foundation, Cleveland Central Catholic High School, St. Edward High School, The Wolstein Center and Whelan Communications.
Jim Roetzel
Jim Roetzel grew up near Cuyahoga Valley National Park and has photographed all over the U.S. and Canada, following nature's rhythms, migrations, and seasons. His work regularly appears in many national and local publications. A partial list includes Audubon, Sierra, Nature Conservancy, National Wildlife, Birder's World, Ducks Unlimited, National Parks and Smithsonian. His books include Cuyahoga Valley, National Park: A Photographic Portrait (2005) with Ian Adams. In 2007, Birds of North America was produced with 250 of Jim's avian images. His work includes landscapes, mammals, insects, plants, flowers and more.
Christina Sadowski
Christina Sadowski works for the City of Cleveland as a Safety Officer and began photographing landscapes around her in 2008, then from a kayak three years ago. Her 2018 solo exhibition, Reflections of Cleveland, reflects industry and nature in the lake and river and received a great deal of coverage. Christina is co-owner of E11even 2 Gallery, part of the popular 78thStreet Studios, the largest fine arts complex in NE Ohio with over 60 galleries and studios. She is proud to have mastered her fear of water and balance a camera from a kayak.