Careers
Employee Value Proposition

Your career runway starts here.

The Department of Port Control (DPC) recognizes that having the most talented, diverse and inclusive workforce possible establishes a competitive advantage to be the best performing organization in the industry and to exceed the expectations of our passengers and airport community. The DPC culture is built upon the shared core values of RESPECT. At DPC, we offer competitive compensation, a robust benefits package and flexibility for a healthy work/life balance. If you want to be a part of a results oriented team with opportunities for development and growth, your aviation career can take off from here.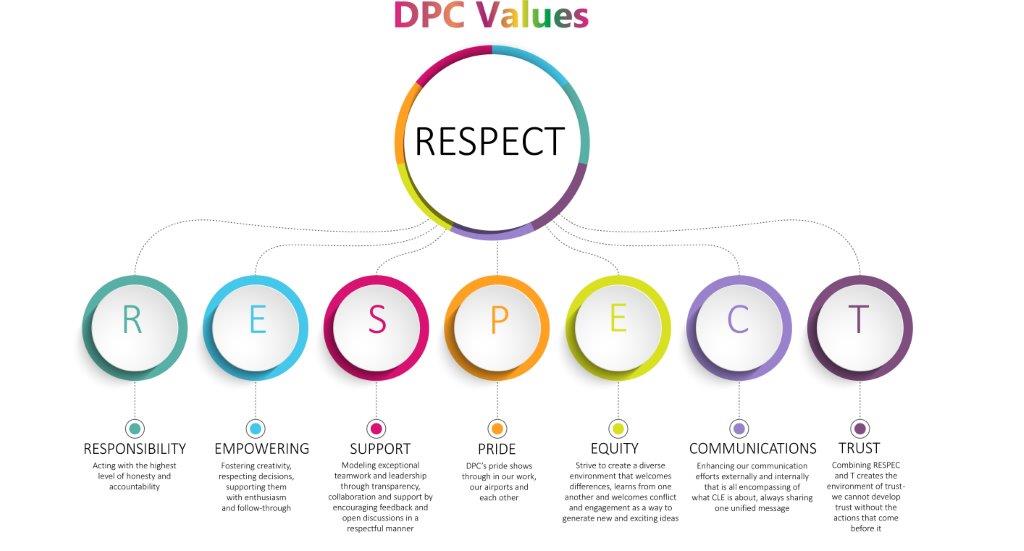 Who We Are
Welcome to the City of Cleveland, Department of Port Control (DPC). DPC is responsible for operating Cleveland Hopkins International (CLE) and Burke Lakefront (BLK) Airports, in addition to North Coast Harbor. Within the airport community, the employee population is composed of approximately six thousand employees including airlines, concessionaries, law enforcement and customer service professionals. Approximately four hundred of those are DPC employees who are working towards our vision of empowering Cleveland's diverse community to connect with the world.
Why You Want to Work at the Airport
If you are looking to land a job that makes your career take flight in a fast paced, dynamic industry that delivers a diverse and inclusive culture valuing the contributions of their people and teamwork, DPC is your employer of choice!
There is no better time to take your career down the runway of success by joining our team!
We are committed to creating a diverse and inclusive environment that recruits, employs, develops, compensates and promotes based on qualifications and is proud to be an equal opportunity employer. DPC understands and appreciates that our differences in gender/gender identity, race, ethnicity, religion, national origin, age, marital status, sexual orientation, physical or cognitive ability, and military/veteran status, among others, provide us with a competitive advantage to best serve our employees, stakeholders and communities.
Cleveland Hopkins International Airport Job Postings
All job postings and applications for Cleveland Hopkins International Airport and Burke Lakefront Airport can be accessed through the City of Cleveland links below.
All official job postings can be found on the City of Cleveland website.
How Do I Apply for a Job?
Applying for a job at the airport is easy. It just takes a few simple steps:
Apply for any job by clicking on the job link. If you have a NEOGOV account you will need to sign in. If you do not have an account, you will need to create a login.
You must complete the application in its entirety. This applies to job postings & civil service bulletins

Attach a copy of your driver license and/or CDL
Attach a copy of your diploma (high school or college depending on the job requirements)
Attach a copy of your resume
Attach any other documents required for minimum requirements

When applying for any position, you must show on your application that you meet the minimum requirements. This can be done by attaching required documents or showing years of experience on your resume
Very Important – if you do not attach required documents, you application will be rejected
All Airport employees must be able to pass a 10 year background check & physical
If you need assistance with the process, please reach out to our Opportunity Center at 216-265-6119
Current Civil Service Examination Announcements
All Civil Service Testing announcements for the City of Cleveland can be found on the City of Cleveland Website. Please click the following link to view the most current list of Civil Service Testing announcements.
City of Cleveland Recognizes Guard and Reserve and Supports USERRA
Statement of Support for the Guard and Reserve
This statement was signed at Cleveland City Hall on May 30, 2007 by Director of Public Safety Martin L. Flask.
The City fully recognizes, honors, and enforces the Uniformed Service Employment and Re-Employment Rights Act
City managers and supervisors will have the tools they need to effectively manage employees who serve in the Guard and Reserve
The City will continually recognize and support this country's service members and their families in peace, crises, and war.
The City of Cleveland has an important role in the defense of the nation by complying with existing employment laws protecting the rights of workers who serve in the Reserve component.