Check-In Options
Most airlines allow travelers to check-in for their flights and print boarding passes up to 24 hours before their scheduled departure. If you plan to check a bag, you may also want to pay any checked baggage fees online when you check-in to save additional time and expenses at the airport. Paying in advance may save you money, and it will allow you to make use of the express bag check lines that many airlines now offer. Please note that Air Canada does not currently offer online check-in for departures from CLE.  
---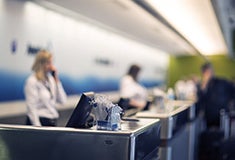 Check-in at your airline's counter
All of our airlines offer in person check-in at their ticketing counter. Please visit your airline's ticketing counter or visit their website for details on specific in person check-in polices.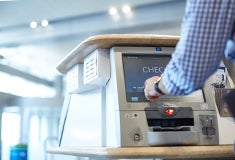 Check-in at your airline's kiosk
Many of our airlines offer check-in at their automated kiosks. Experiences and options differ by airline, so please contact your airline directly with any questions or comments regarding kiosk check-in.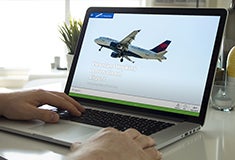 Check-in via your airline's website or app
Most of our airlines also offer the option to check-in to your flight via the airline's website or their proprietary mobile app. Please visit your airline's website to learn more about online check-in options and airline mobile apps.