Head2Head
Milan Kecman
What does the human face consist of? A pair of eyes, a pair of ears, a nose and a mouth.
When one aligns these features, everyone's head looks basically the same. So if you combine the split image of two faces, a natural and cohesive alignment emerges. This was the premise that I started with when I decided to do my Head2Head series.
In Ancient Chinese Philosophy,yin yang(yīnyáng, lit. "dark-bright", "negative- positive") describes how seemingly opposite or contrary forces may actually be quite complementary, interconnected, and interdependent in the natural world, and how they may give rise to each other as they interrelate to one another.
Always interested in history, I decided to pair the faces of prominent personalities from the past. My intent is to pose an examination of individuals whose lives intersected or contrasted in some historic or portentous way. Some worked in similar fields, while others differed in their pursuits. As is the often the case in life, there are two sides — and two faces — to every story.
Though my canvases are divided, showing two different personalities, the illusion is of one person. I chose to render my portraits in monochromatic tones to evoke the zeitgeist of the period in which they lived.
We all live in the here and now, but our world was shaped by the legacy of those who came before us. These are portraits of people who left an indelible mark on their time that has left an enduring legacy for our time.
It is my hope that these portraits will inspire a mindfulness that our deeds today will determine our legacy for future generations.
Thank you for taking the time to view my collection.
Artist Details
About Milan Kecman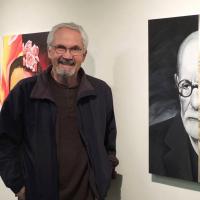 Milan Kecman's work has a versatile approach that conveys a flexibility that brings a unique vision to each project. His work has included black and white scratchboard with color wash in addition to painting in acrylics and oils. Having an interest in history and drawing from early influences in mythology, folk tales and Aesop's fables he makes frequent use of allegory and humor in a style perhaps best described as "visual storytelling."
Kecman is a graduate of the Cleveland Institute of Art. He has worked as a graphic designer, art director and pursued a career in illustration. He worked as a freelance illustrator until 1995 when he took a position as an editorial artist with a local newspaper. Kecman now devotes his time exploring new creative directions. In addition to taking on commissioned art projects, Kecman also participates in public art projects including United Way's "Guitarmania," and St. Clair Superior Development Corporations mural projects.
During the past several years, Kecman has exhibited in local art festivals where he has received many awards throughout Northeast Ohio, including Best of Show at Hudson Art on the Green and Honorable Mentions at the 6thand 8th Annual Crocker Park Art Fairs. His work has been on exhibit at the Annual May Show at Lakeland Community College, The Shaker Heights Library, and the 5th Annual Ohio Online Visual Artist Registry show in Columbus. In addition, he has been juried into the Waterloo Arts Exhibition and the Fairmount Center for the Arts Exhibit where he won second place in the painting category.
Kecman is an active member of The Northern Ohio Illustrators Society (NOIS) having served as vice president for a number of years. In addition to NOIS he is also a member of various community art groups in the Northeast Ohio region.