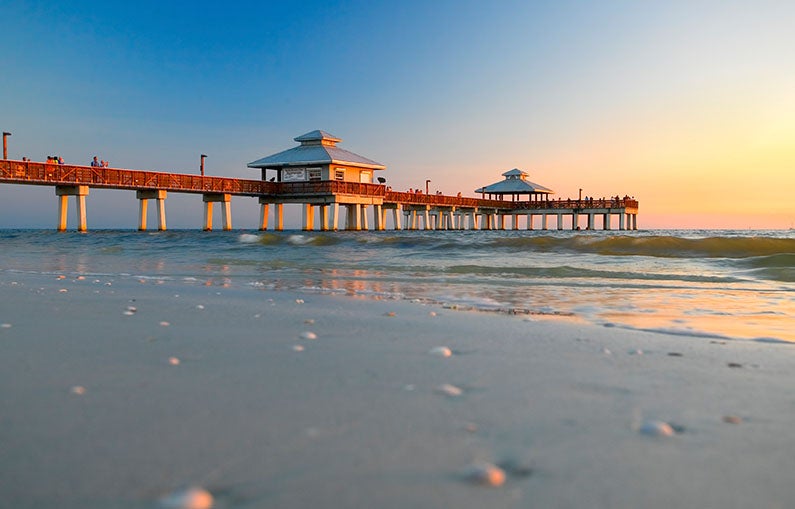 Fort Myers
Situated on the Gulf Coast of Florida, The City of Palms is known for year-round sunshine and sprawling stretches of white sand. A destination for golfing and deep-sea fishing, Fort Myers exudes the relaxed atmosphere found most easily on the beach. 
Fort Myers Beaches
Between Captiva Beach, Tarpon Bay Beach, Cayo Costa State Park, and many others, the Fort Myers beachgoer is not without choices.  Each offers a different experience, and depending on your interests (swimming, relaxing, water sports), each can adapt to fit your vacation style.
Six-Mile Cypress Slough Preserve
Take a walk along Six-Mile Cypress Slough Preserve and discover the wildlife of western Florida. The guided tours are led by volunteers, and serve as a great resource. Otherwise, you can explore the route solo; the nature will follow you down the path either way. With white ibises, gators, and sea turtles about, you never know what you might encounter on your stroll. 
Edison and Ford Winter Estates
Once frequented by Thomas Edison and Henry Ford, the Edison and Ford Winter Estates are now open daily to the public. The two visionaries were great friends, and spent their winter vacations as neighbors on a pristine stretch of Fort Myers soil. Today, visitors can explore Edison's laboratory and the meticulously planned gardens, an up-close interaction with the past. 
Manatee Park
Home to Florida's Gentle Giant, Manatee Park serves as a warm-water refuge. When the gulf's temperatures are low (especially during the winter months), you might just spot a manatee or two in this open stretch of sea. The area also makes way for a massive butterfly garden, further honoring the wildlife of western Florida.
To plan your trip to Fort Myers or for an extended guide of things to do, visit the official Fort Myers city guide at http://www.fortmyers-sanibel.com
Southwest Florida International Airport
To learn more about specific flight information, hotels around the airport, ground transportation and more, visit the airport's website.
(United service to Fort Myers is operated on a seasonal basis)