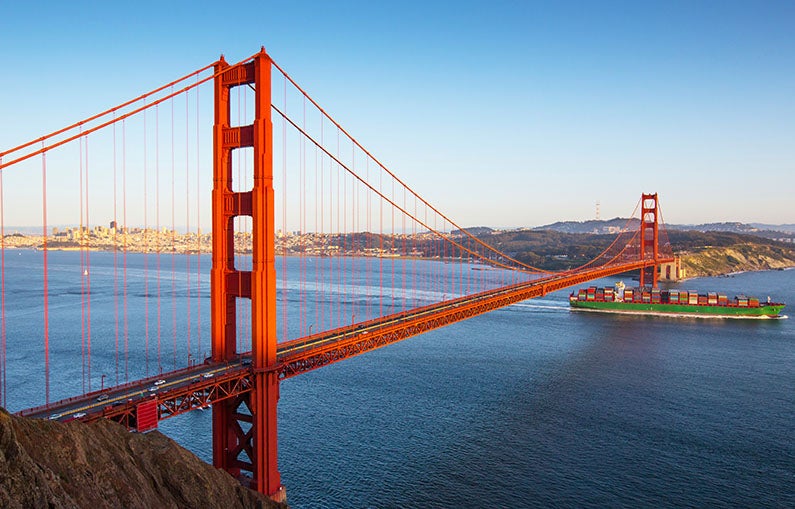 San Francisco
Home to dozens of hills, a perpetual woolen blanket of fog, and kaleidoscopic rows of Victorian rooflines, The Golden Gate City is iconic in its diversity, its commitment to Californian history, and its artistic atmosphere. Catch a ride on a cable car and take in the sights: San Francisco has a little something for everyone.
Fisherman's Wharf
Fisherman's Wharf, one of San Francisco's most talked-about sites, houses a world of its own along the bay. The fishermen for which the wharf was named are the colorful characters of the city's past (particularly Henry Meiggs, who was said to have been chased to South America by his creditors). The wharf of today is a mecca of restaurants, shopping, and museums. Stop by the "floating restaurant"—Forbes Island—and enjoy a feast of Dugeneness crab and clam chowder, the kitchen's most iconic dish. 
Alcatrez Island
If you've got some time to spend in the Bay Area, Alcatraz Island is certainly worth a day trip. About a mile and a half offshore from the city, Alcatraz is home to the first-ever lighthouse in the United States, fantastic flora and fauna, and conversely, a federal prison (which closed its doors in 1963). Now maintained by the National Park Service, the prison grounds offer a fascinating insight into the lives of high-profile federal inmates such as Al Capone and Frank Morris, who famously escaped in 1962.
Golden Gate Bridge
You can't leave S.F. without snapping a photo of the Golden Gate Bridge. The one-mile long bridge has been named one of the Modern Wonders of the World, and is quite possibly one of the most photographed landmarks in the United States. There's no denying it—the bridge is stunning, and offers incomparable views from its pedestrian walkway. Here you are at the heart of the Bay: walking atop the city's great connector.
Exploratorium
How does the world work? It's a tough question, but the Exploratorium aims to answer it through its countless imaginative, interactive exhibits. Why do our voices sound angelic in the shower, yet hellish in real life? What is the chemistry of coffee? How is champagne made? Head over to the Exploratorium and find out, a fascinating exploration of the mysterious obscurities of modern life.
To plan your trip to San Francisco or for an extended guide of things to do, visit the official San Francisco city guide at http://www.sanfrancisco.travel. 
San Francisco International Airport
To learn more about specific flight information, hotels around the airport, ground transportation and more, visit the airport's website.