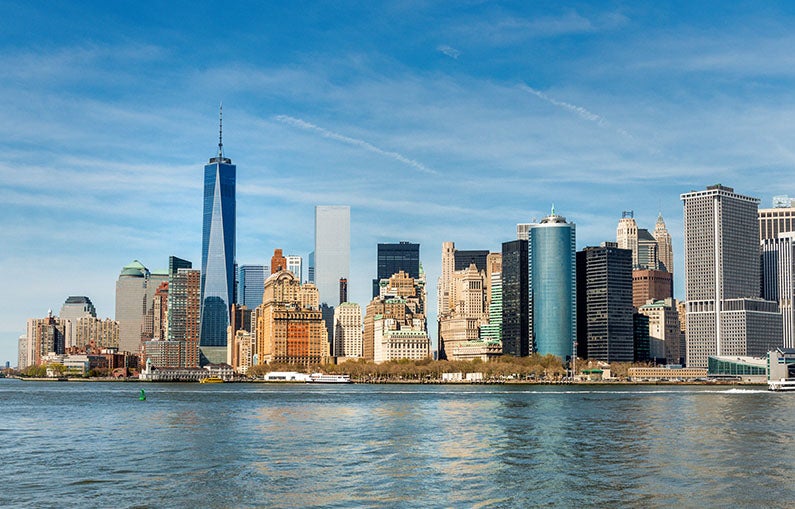 New York - LGA
Whether you're planning your first trip to NYC or you've lived here for decades, you'll find endless things to do in New York City. 
The High Line
Built on an abandoned railway track, the space is ingenious in its use of reclaimed industrial detritus, a necessity in footage-starved Manhattan. But what we like best is how the pathway takes you above the city while keeping you rooted in urban life: Where else can you walk through a field of wildflowers or sprawl on a lush lawn as cabs zoom along the street beneath you? 
Central Park
For your stroll, head to the 38-acre wilderness area on the west side of the park known as the Ramble. The area has a storied history (as a gay cruising spot dating back to the turn of the last century, among other things), and it was even proposed as a recreational area in the mid-'50s. Thankfully, the winding trails, rocks, and streams seemingly remain waiting to be discovered. 
Brooklyn Botanic Garden
Those searching for a little peace and quiet would do well to spend a few hours at this verdant oasis. The garden—which abuts two other neighborhood gems: the Brooklyn Museum and Prospect Park—was founded in 1910 and features thousands of types of flora, laid out over 52 acres. Each spring, crowds descend on the space for the Sakura Matsuri Festival, during which more than 70 trees bloom along the Cherry Esplanade. 
Museum of Natural History
No matter which wing you wander through or where your curiosities lie (dinosaurs, gems, or something else entirely), it's hard to explore this Upper West Side fixture without being awestruck. The spectacular $210 million Rose Center for Earth and Space—dazzling at night—is a giant silvery globe where you can discover the universe via 3-D shows in the Hayden Planetarium and light shows in the Big Bang Theater.
To plan your trip to New York or for an extended guide of things to do, visit the official NYC city guide at www.nycgo.com.
New York LaGuardia Airport
To learn more about specific flight information, hotels around the airport, ground transportation and more, visit the airport's website.