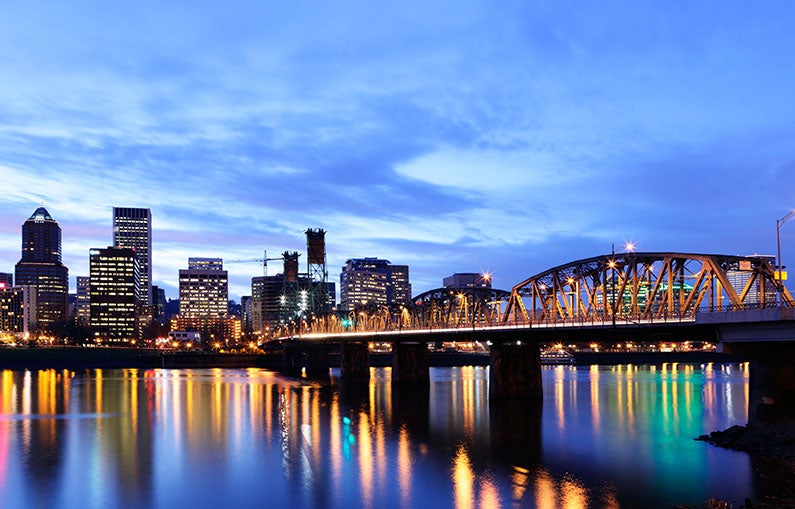 Portland
Known as the "City of Roses," Portland blooms in its eccentricities. With splendorous scenery, an artistic atmosphere, and a sprawling checklist of attractions, this gem of the Pacific Northwest serves as an incubator for innovation and entertainment.  
Voodoo Doughnut (and Wedding Chapel)
These aren't your grandpa's Krispy Kremes. With toppings like Cap'n Crunch cereal, grape Tang, and M&Ms, Voodoo Doughnuts are the glazed manifestation of Oregon's aforementioned eccentricities. Established in 2002, the now-iconic doughnut shop is steeped in sugar, curious anecdotes, and… holy matrimony? Though the shop is known for its doughy creations, it also doubles as a wedding chapel. With packages starting at $250, Voodoo Doughnut weddings are performed in-house, and include special his and hers doughnuts to "sweeten" the deal. 
International Rose Test Garden
With more than 10,000 roses in summer bloom, the International Rose Test Garden is the pride of Portland. A sublime oasis, located in Washington Park, the garden is a testament to a well-manicured history of colorations and fragrance. This vibrant collection of flora is immaculate, and the public is invited to participate in free daily tours from Memorial Day to Labor Day. With a consistent stream of new rose cultivars from all corners of the globe, the test garden is home to exuberance, exquisite tradition, and the sweet perfumes of June.  
Forest Park
Clocking in at a massive 5,157 acres, Forest Park is one of Portland's largest (and most beautiful) outdoor attractions. Described as an "urban forest," the park is situated amongst the Tualatin Mountains and boasts the stunning architecture of nature. Whether you're a casual stroller or a well-seasoned backpacker, Forest Park offers an endless combination of excursions, making it a premier destination for Portland explorers. 
Powell's Books
Housed within the city of Portland is Powell's City of Books, which could merit its own zip code (and has its own, highly-intricate map). This Oregonian institution, founded in 1971, boasts all the qualities of a great museum: revered history, volumes of memoir, and carefully curated displays. Best of all? The "exhibits" are the shelves themselves, and each book is yours for the perusing (and eventually, purchasing). Lose track of time and find a new favorite—the nearby Voodoo Doughnut awaits with a sugary reward (the perfect pair to a well-loved paperback).
To plan your trip to Portland or for an extended guide of things to do, visit the official Portland city guide at http://www.travelportland.com.   
Portland International Airport
To learn more about specific flight information, hotels around the airport, ground transportation and more, visit the airport's website.