Shop, Dine and Relax at CLE
Under the management of AIRMALL Cleveland, the concessions at CLE have a mix of local, regional and national brands. Add a diverse art program, airport lounge options and quiet spaces to plug in and relax into the mix, and CLE offers passengers a first-class airport experience.
No Results
Sorry, no results for your chosen filter.
Show All
Location: Main Terminal
Hours: Sun - Fri 4:00am - 8:00pm Sat 4:00am - 7:00pm
Phone: 216.265.8486
Learn More
Auntie Anne's Soft Pretzels
Location: Gate B6
Hours: Sun - Fri 4:00am - 7:45pm Sat 4:00am - 5:30pm
Phone: 216.265.8445
Auntie Anne's Soft Pretzels
Location: Main Terminal
Hours: Sun - Fri 4:00am - 8:00pm Sat 4:00am - 7:00pm
Phone: 216.265.8468
Bar Symon
Location: Concourse C
Hours: 4:00am - 8:15pm Mon - Fri; 4am - 7:30pm Sat; 4am - 8:45pm Sun
Phone: 216.762.1075
Benefit Cosmetics
Location: C8
Hours: 24 Hours
Best Buy Express
Location: A6
Hours: 24 Hours
Best Buy Express
Location: C14
Hours: 24 Hours
Bruegger's Bagels
Location: Main Terminal Food Court
Hours: Sun - Fri 4:00am - 8:00pm Sat 4:00am - 7:00pm
Phone: 216.862.7505
Chick-fil-A
Location: Main Terminal Food Court
Hours: Mon - Fri 4:00am - 8:00pm Sat 4:00am - 7:00pm
Phone: 216-265-8480
Cinnabon
Location: Main Terminal
Hours: Sun - Fri 4:00am - 8:00pm Sat 4:00am - 7:00pm
Phone: 216.265.8468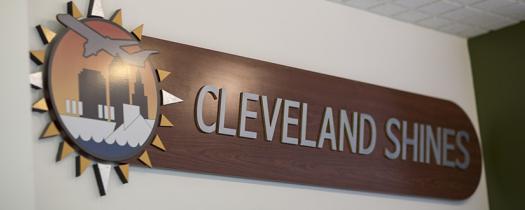 Cleveland Shines - Shoe Shine
Location: Gate A1
Hours: Mon-Fri 10AM to 5PM
Phone: 216.267.9005
Cleveland Shines - Shoe Shine
Location: Gate B4
Hours: Mon-Fri 6AM to 7PM
Phone: 216.267.9005
Cleveland Shines - Shoe Shine
Location: Gate C2
Hours: Mon-Fri 6AM to 7PM / Sat-Sun 7AM to 5PM
Phone: 216.267.9005
Connection Station A
Location: Entrance to Concourse A
Connection Station B
Location: Entrance to Concourse B
Location: Main Terminal Food Court
Hours: Sun - Fri 5:00am - 8:00pm Sat 5:00am - 7:00pm
Phone: 216.265.8420
Learn More
Dunkin' Donuts
Location: Main Terminal Food Court
Hours: Open 24 Hours
Phone: 248.730.5590
Eurocafe
Location: Ticketing
Hours: Sun-Fri 4:00AM - 7PM, Sat 3:30AM - 7PM
Great Lakes Brewing Company
Location: Gate C14
Hours: 4:00am - 8:15pm Mon - Fri; 4am - 7:30pm Sat; 4am - 8:45pm Sun
Phone: 216.265.8448
Hudson Booksellers
Location: Main Terminal
Hours: Sun - Fri 4:00am - 8:00pm Sat 4:00am - 7:00pm
Phone: 216.265.8492
Hudson News
Location: A1
Hours: Sun, Tues, Thurs, Sat 4am - 12am / Mon, Wed, Fri 4am - 8:30pm
Phone: 216.265.8457
Hudson News
Location: Gate A5
Hours: Sun, Tues, Thurs, Sat 4am - 12am / Mon, Wed, Fri 4am - 8:00pm
Phone: 216.265.2800
Hudson News
Location: Main Terminal
Hours: Sun - Fri 4:00am - 8:00pm Sat 4:00am - 7:00pm
Phone: 216.265.8490
Hudson News
Location: Gate C2
Hours: 4:00am - 8:15pm Mon - Fri; 4am - 7:30pm Sat; 4am - 8:45pm Sun
Phone: 216.433.1841
Hudson News
Location: Gate C8
Hours: 4:00am - 8:15pm Mon - Fri; 4am - 7:30pm Sat; 4am - 8:45pm Sun
Phone: 216.265.8476
Hudson News
Location: Gate C26
Hours: 4:00am - 8:15pm Mon - Fri; 4am - 7:30pm Sat; 4am - 8:45pm Sun
Phone: 216.265.8464
Hudson News Aero Mart
Location: Baggage Claim
Hours: Daily 8AM to 8:30PM
Phone: 216.362.9034
Hudson News Euro Cafe
Location: Ticketing
Hours: Mon, Wed, Fri, Sun 4am - 11pm / Tues, Thurs, Sat 4am - 8pm
Phone: 216.362.8834
Hudson News Euro Cafe
Location: B4
Hours: Sun - Fri 4:00am - 7:45pm Sat 4:00am - 5:30pm
Phone: 216.265.3648
Inca Tea Cafe
Location: Concourse C
Hours: 4:00am - 8:15pm Mon - Fri; 4am - 7:30pm Sat; 4am - 8:45pm Sun
Inca Teas
Location: Near B4
Hours: M, T, W, F 5:00am - 8:15pm / W & Sun 5:00am - 8:45pm / Sat 5:00am - 7:30pm
InMotion
Location: Gate C2
Hours: 5:00am - 8:15pm Mon - Fri; 5am - 7:30pm Sat; 5am - 8:45pm Sun
Phone: 216.317.5938
Johnston & Murphy
Location: Main Terminal
Hours: Sun - Fri 5:00am - 8:00pm Sat 5:00am - 7:00pm
Phone: 216.898.0631
Kids Works
Location: Main Terminal
Hours: Sun-Fri 6:30AM to 8PM, Sat 6:30AM to 5:30PM
Phone: 216.898.0658
La Boutique
Location: Entrance to Concourse C
Hours: 5:00am - 8:15pm Mon - Fri; 5am - 7:30pm Sat; 5am - 8:45pm Sun
Phone: 216.465.4943
Menchie's Frozen Yogurt
Hours: Sun - Fri 4:00am - 7:45pm Sat 4:00am - 5:30pm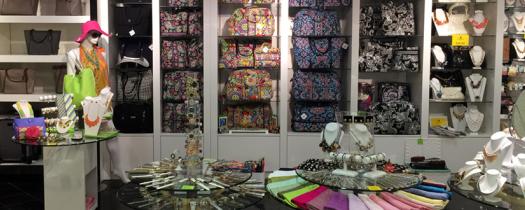 Monarch
Location: Entrance to Concourse C
Hours: 5:00am - 8:15pm Mon - Fri; 5am - 7:30pm Sat; 5am - 8:45pm Sun
Phone: 216.265.8469
Ohio Game Day Sports
Location: Main Terminal, on the ticketing level near Central Security Checkpoint
Hours: Sun - Fri 5:00am - 8:00pm Sat 5:00am - 7:00pm
Phone: 216.898.0658
Ohio Lottery
Location: A1
Hours: 24 Hours
Ohio Lottery
Location: B3
Hours: 24 Hours
Ohio Lottery
Location: C6, C24, C27
Hours: 24 Hours
Ohio Lottery
Location: Ticketing
Hours: 24 Hours
Ohio Lottery
Location: Baggage Claim
Hours: 24 Hours
Potbelly Sandwich Shop
Location: Gate C28
Hours: 5:00am - 8:15pm Mon - Fri; 5am - 7:30pm Sat; 5am - 8:45pm Sun
Phone: 216.413.4198
Quaker Steak & Lube
Location: Gate B5
Hours: Sun - Fri 4:00am - 7:45pm Sat 4:00am - 5:30pm
Phone: 216.265.8498
Rock and Roll Hall of Fame Museum Store
Location: Main Terminal
Hours: Sun - Fri 5:00am - 8:00pm Sat 5:00am - 7:00pm
Phone: 216.265.1744
Sammy's Beach Bar & Grill
Location: Gate A1
Hours: Sun, Tues, Thurs, Sat 4am - 12am / Mon, Wed, Fri 4am - 8:30pm
Phone: 216.265.0231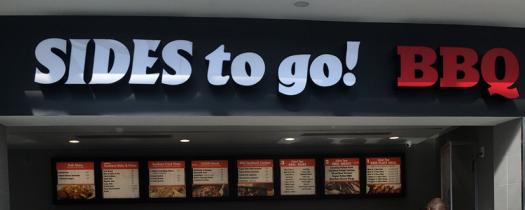 Sides to go! BBQ
Location: Across from Gate C28
Hours: 9:30am - 8:15pm Mon - Fri; 9:30am - 7:30pm Sat; 9:30am - 8:45pm Sun
Phone: 216.898.6608
Starbucks Coffee
Location: Gate A1
Hours: Sun, Tues, Thurs, Sat 4am - 12am / Mon, Wed, Fri 4am - 8:30pm
Phone: 216.265.0231
Starbucks Coffee
Location: Gate C22
Hours: 4:00am - 8:15pm Mon - Fri; 4am - 7:30pm Sat; 4am - 8:45pm Sun
Phone: 216.265.0262
Subway
Location: Ticketing
Hours: Sun-Fri 7:00AM - 7:00PM / Sat 7:00AM - 7:00PM
Phone: 216.265.8415
Subway
Location: Across from Gate B6
Hours: Sun - Fri 4:00am - 8:30pm Sat 4:00am - 5:30pm
Phone: 216.265.8415
Sunglass Hut
Location: Main Terminal
Hours: Sun - Fri 5:00am - 8:00pm Sat 5:00am - 7:00pm
Phone: 216.898.0238
The Pub
Location: Main Terminal
Hours: Sun - Fri 4:00am - 8:00pm Sat 4:00am - 7:00pm
Phone: 216.265.8495
Travelex Currency Services
Location: Main Terminal
Hours: Sun, Tues, Thurs, Sat 5am - 12am / Mon, Wed, Fri 5am - 8:45pm
Phone: 216.265.3311
Travelex Currency Services
Location: Next to Door 5, Across from Carousel 9
Hours: Daily 10AM to 6PM
Phone: 216.265.3309
Location: Gate C14
Hours: Sun - Friday 5:00AM to 8:45PM, Sat 5AM to 7PM
Phone: 216.501.5108
Learn More
Location: Gate B2
Hours: Sun 10:30am - 7:45pm; Mon - Fri 9:30am - 7:45pm; Sat 9:30am - 5:30pm
Phone: 216.265.2725
Learn More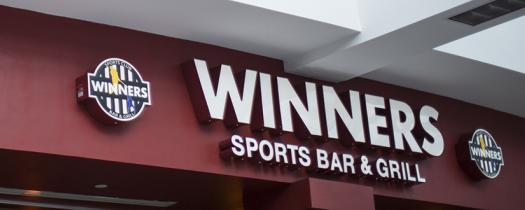 Winners Sports Bar & Grill
Location: Gate C24
Hours: 5:00am - 8:15pm Mon - Fri; 5am - 7:30pm Sat; 5am - 8:45pm Sun
Phone: 216.265.8417